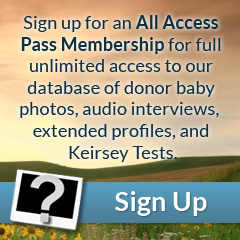 Eyes: Blue
Hair: Blonde
Height: 6'01"
Weight (lbs): 210
Blood: A Rh+
CMV: -
Ethnicity: Caucasian, German
Jewish Ancestry: No
Education/Occupation: B.A. Political Science / Student
Live Birth / Pregnancy Confirmed: Yes
Extended Testing: Yes
Genetically tested for: View
Nixon has an athletic build, with broad shoulders and strong arms. He has a medium skin tone that tans dark in the summer, wavy dark blonde hair, sparkling blue eyes, a rounded face, and full lips. Overall, he is very attractive and presents himself very well!
Nixon always has a great attitude- he is fun, laid-back, quirky, and to the point. He is currently finishing his degree in Political Economics, with a goal to soon get into one of my many prominent tech sales companies in the Pacific Northwest. He definitely has the charisma and the knack for business and numbers needed to go very far in his desired profession. In his personal time, Nixon is an avid cook, loves to eat, hike, and ski; he is also very active in wrestling, which he has done since high school and still does collegiately. If you are looking for someone direct, confident, and fun-loving, Nixon would be a great choice for you!
Genetic Testing
Over the years, we have expanded our genetic testing of donors as genetic knowledge and technology have advanced. As a result, not all donors have been tested for the same conditions or with the same methods. All donors have undergone genetic testing for Cystic Fibrosis, Spinal Muscular Atrophy and Karyotyping.  However, many donors have had more extensive testing performed.
This donor has been evaluated for carrier status of the listed conditions. A negative result reduces, but does not eliminate, the likelihood of the donor being a carrier. If you are a known carrier of a genetic condition please contact us, and we will provide a copy of the donor's test reports to your physician and/or genetic counselor.