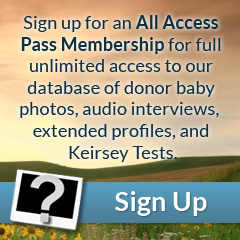 Eyes: Blue/Green
Hair: Blonde
Height: 6'02"
Weight (lbs): 178
Blood: A Rh+
CMV: +
Ethnicity: Caucasian, German, Welsh
Jewish Ancestry: No
Education/Occupation: Masters Environmental Science / Environmental Scientist
Live Birth / Pregnancy Confirmed: No
Extended Testing: Yes
Genetically tested for: View
With a fair complexion, soulful blue/green eyes, and light blonde hair, Nolen is extremely attractive. He is tall and has long limbs on his lean, muscular frame. Nolen has a very charming smile and is very engaging when you speak to him. He is soft-spoken but is very sociable and witty and makes fast friends.
Nolen has a well-rounded personality, with a Masters in Environmental Science and natural artistic ability as well as athletic skill.  Spending his free time outdoors hiking, skiing, and trail running, Nolen stays in great physical shape. In his free time, he loves to read, cook, and be with friends and family. If you are looking for a kind-hearted, smart, attractive donor, Nolen may be a good fit for you!
Genetic Testing
Over the years, we have expanded our genetic testing of donors as genetic knowledge and technology have advanced. As a result, not all donors have been tested for the same conditions or with the same methods. All donors have undergone genetic testing for Cystic Fibrosis, Spinal Muscular Atrophy and Karyotyping.  However, many donors have had more extensive testing performed.
This donor has been evaluated for carrier status of the listed conditions. A negative result reduces, but does not eliminate, the likelihood of the donor being a carrier. If you are a known carrier of a genetic condition please contact us, and we will provide a copy of the donor's test reports to your physician and/or genetic counselor.
Since this donor is a carrier for 1 or more conditions, we require that you fill out the Informed Consent document found HERE
This consent form needs to be completed and sent to us, prior to shipment.