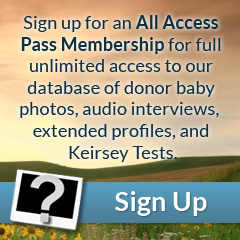 Eyes: Blue/Green
Hair: Light Brown
Height: 6'00"
Weight (lbs): 175
Blood: O Rh+
CMV: +
Ethnicity: Caucasian, French, Greek, Italian
Jewish Ancestry: No
Education/Occupation: B.S. Physics / Student / Physics Tutor
Live Birth / Pregnancy Confirmed: Yes
Extended Testing: Yes
Genetically tested for: View
Norman is tall and lean with a small to medium build. He has short, light brown hair and a thick, blondeish brown beard. Norman has a long, oval shaped face with attractive pointed features and large, green/blue eyes. Norman has a beautiful smile with large, straight teeth and full lips.
Norman is extremely scholarly and introspective, determined to gain as much wisdom and perspective as possible from his academic pursuits. He is studying to be a Theoretical Physicist, as well as leading his school's chess team. He also tutors undergrad students in math and physics.  He lives to better himself, and has taught himself multiple languages (Mandarin, Spanish, Korean), and plays multiple musical instruments (Piano, Tuba, Trombone). Norman has very altruistic reasons for wanting to become a donor, and stresses the importance of family in one's life. If you are looking for someone who is compassionate, wise, and hard-working, Norman would be a great choice for you!
Genetic Testing
Over the years, we have expanded our genetic testing of donors as genetic knowledge and technology have advanced. As a result, not all donors have been tested for the same conditions or with the same methods. All donors have undergone genetic testing for Cystic Fibrosis, Spinal Muscular Atrophy and Karyotyping.  However, many donors have had more extensive testing performed.
This donor has been evaluated for carrier status of the listed conditions. A negative result reduces, but does not eliminate, the likelihood of the donor being a carrier. If you are a known carrier of a genetic condition please contact us, and we will provide a copy of the donor's test reports to your physician and/or genetic counselor.