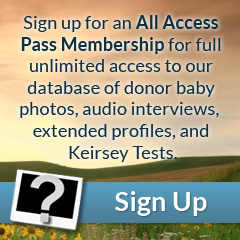 Eyes: Blue
Hair: Brown
Height: 5'11"
Weight (lbs): 181
Blood: A Rh+
CMV: +
Ethnicity: Caucasian, English, Swedish
Jewish Ancestry: No
Education/Occupation: BS - Chemical Engineering / Chemical Engineer
Live Birth / Pregnancy Confirmed: No
Extended Testing: Yes
Genetically tested for: View
Orson's face is smart, caring, and bright. He has an oval face, a dazzling smile, and cute dimples. His sandy, light brown hair and bright blue eyes, coupled with his fair skin and subtle rosy undertones, give him a beachy vibe that is universally attractive. Orson is a prolific wrestler, and has the physique to show for it- solid medium frame, slender torso, and strong legs, arms, and shoulders.
If there were an award for "Nicest Person on the Planet," Orson would certainly be a contender. He is altruistic to a fault, kind, generous, and seems to always puts everyone's wellbeing above his own. He stays incredibly busy, with his day job as an Engineer and his side jobs as a volunteer and member of the board of multiple non-profit organizations. He has an intimate relationship with his parents and siblings and praises their close relationships. Orson is all around a compassionate, smart, motivated, and inspiring young man, and we are so happy to have him in our donor program!