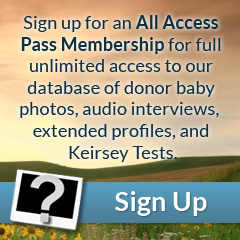 Eyes: Brown
Hair: Dark Brown
Height: 5'07"
Weight (lbs): 135
Blood: O Rh+
CMV: -
Ethnicity: Mix, German, Mexican
Jewish Ancestry: No
Education/Occupation: B.A. Music / Student, Retail Franchise Manager
Live Birth / Pregnancy Confirmed: Yes
Extended Testing: No
Genetically tested for: View
Oscar is all around a very striking person- his face is square, with a nicely defined chin and jawline. He has lovely, sparkling brown eyes and thick, wavy dark brown hair. His complexion is smooth and clear with a medium tone. He loves to hike and backpack around the Pacific Northwest during his free time, so he's also in fabulous physical shape!
Oscar is very friendly, funny, quick-witted, and down to earth. He loves being physically active, backpacking anywhere he can and playing fun, backyard sports with his friends on the weekends. He also very tech savvy and he is fascinated with virtual reality; he even wants to design his own one day! Oscar prides himself on his ability to accomplish any task he sets his mind to- if you are looking for someone who is well-rounded and interesting, Oscar would be a great choice for you.