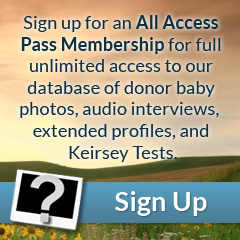 Eyes: Blue
Hair: Light Brown
Height: 6'01"
Weight (lbs): 220
Blood: O Rh-
CMV: -
Ethnicity: Caucasian, English, German, Swedish
Jewish Ancestry: No
Education/Occupation: A.A. Computer Information Systems / Aerospace Machinist
Live Birth / Pregnancy Confirmed: Yes
Extended Testing: No
Genetically tested for: View
Owen definitely has rugged, masculine good looks. His broad shoulders and muscular physique make for quite a handsome young man. Owen has deep-blue eyes, shaped perfectly like almonds, and a medium skin tone. His smile reveals not only a set of fabulous white teeth but also two adorable dimples in his cheeks.
Owen embodies the "go-getter" concept, as he works hard and follows through with everything he begins. He loves his family, and particularly hanging out with his little brother, with whom he is extremely close. Owen is a family man, a straight-talker, and a genuinely good human being. He wants to help, and we think he will make a lot of families very happy as a donor.