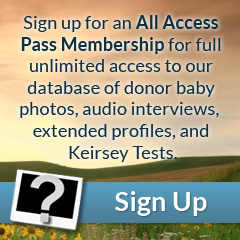 Eyes: Brown
Hair: Dark Brown
Height: 6'02"
Weight (lbs): 198
Blood: O Rh-
CMV: -
Ethnicity: Mix, German, Salvadorian
Jewish Ancestry: No
Education/Occupation: B.A. Business Marketing / Student, Outreach Recruitment Advisor
Live Birth / Pregnancy Confirmed: Yes
Extended Testing: Yes
Genetically tested for: View
Phillip is one of our most handsome donors. He is tall with well-defined muscles and chiseled facial features. Phillip has a clear complexion and olive skin tone with dark brown eyes. He is usually clean shaven and his hair short to give him a very clean cut look. He has his hair thick, dark brown that he keeps cut short and usually fashionably styled. Phillip always comes in with a wide, infectious smile that show off his straight white teeth.
Aside from his good looks, Phillip is intelligent and extremely outgoing. He is currently pursuing a degree in business marketing and hopes to be a motivational speaker. Considering how chatty he is with everyone he meets; we believe this should be an easy goal for him to accomplish. Aside from his great personality, Phillip is also athletic and musical, playing both piano and guitar. When asked why he wanted to be a donor, Phillip said "Because my aunt is barren and I witnessed their struggle and problematic procedures of trying to have a child, so I figured I could help and do my part to help other families." This sensitivity along with his other attributes make Phillip a stellar donor.