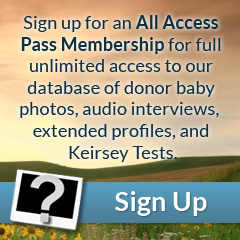 Eyes: Blue/Green
Hair: Dark Brown
Height: 5'11"
Weight (lbs): 180
Blood: O Rh+
CMV: +
Ethnicity: Caucasian, Dutch, German, Irish
Jewish Ancestry: No
Education/Occupation: B.S. Electrical Engineering / Electrical Engineer
Live Birth / Pregnancy Confirmed: No
Extended Testing: No
Genetically tested for: View
Phoenix has piercing blue-green eyes and tan skin. He keeps his dark-brown hair short and flipped up slightly in the front. His eyebrows are thick but separated at a good distance. He has broad shoulders and exercises on a daily basis, keeping his physique in tip-top shape. His jawline and chin are nicely defined. His nose is proportional, centered, and straight.
Phoenix loves his career and works hard for his success. He enjoys relaxing with his friends, too, and hosting barbeques and playing backyard football. Phoenix is very intelligent and socially outgoing. He is comfortable in his own skin and makes friends easily with his magnetic charm and personality. Phoenix is attractive, fun, smart, and a terrific donor.