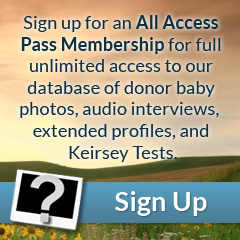 Eyes: Brown
Hair: Black
Height: 5'06"
Weight (lbs): 146
Blood: O Rh+
CMV: -
Ethnicity: Asian, Vietnamese
Jewish Ancestry: No
Education/Occupation: High School / Laboratory Technician
Live Birth / Pregnancy Confirmed: No
Extended Testing: No
Genetically tested for: View
Phuong has lovely olive skin and a full head of straight black hair. His eyes are a dark-brown that looks almost black in some lights. He has large, handsome almond-shaped eyes. All of Phuong's facial features are symmetrically placed, and his high and defined cheek bones give his face a perfect square shape. Phuong also is very physically fit, and lives an incredibly active lifestyle.
Phuong enjoys a variety of interesting hobbies, from fencing to Japanese pop culture. He appreciates all of the simple things in life, and likes to sit back and observe the world around him. Phuong maintains a quiet and reserved demeanor, but shows his quirky and fun sense of humor after you get to know him. One day he hopes to travel around the world. Phuong is an absolute sweetheart and a wonderful donor!