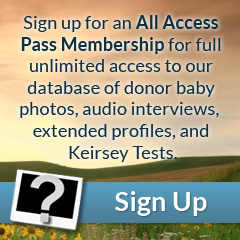 Eyes: Green
Hair: Dark Brown
Height: 6'02"
Weight (lbs): 155
Blood: O Rh+
CMV: -
Ethnicity: Caucasian, French, Irish, Polish, Swedish
Jewish Ancestry: Yes
Education/Occupation: B.S. Computer Science / Student
Live Birth / Pregnancy Confirmed: Yes
Extended Testing: Yes
Genetically tested for: View
Pierre has a distinctly European style and air that makes him wonderfully unique. He has a deep voice that matches his looks well. Pierre has very dark hair that is full and slightly wavy. He has a beautiful pale complexion and full pinkish red lips. His cheeks have a natural ruddy hue that contrasts nicely with his skin tone. Pierre has the ability to tan to a glowing golden brown which makes his features stand out even more.
Pierre is very intelligent. He enjoys music and plays several instruments while also producing electronic music. Pierre has always been gifted in math and it translates well into his studies as a computer scientist. Pierre is also very athletic and excels at sports. He is very outgoing and sweet which makes him a pleasure to work with. Pierre is a very well rounded individual and would make a lovely donor choice!
Genetic Testing
Over the years, we have expanded our genetic testing of donors as genetic knowledge and technology have advanced. As a result, not all donors have been tested for the same conditions or with the same methods. All donors have undergone genetic testing for Cystic Fibrosis, Spinal Muscular Atrophy and Karyotyping.  However, many donors have had more extensive testing performed.
This donor has been evaluated for carrier status of the listed conditions. A negative result reduces, but does not eliminate, the likelihood of the donor being a carrier. If you are a known carrier of a genetic condition please contact us, and we will provide a copy of the donor's test reports to your physician and/or genetic counselor.