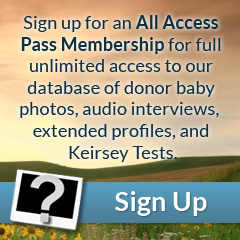 Eyes: Blue/Green
Hair: Blonde
Height: 5'11"
Weight (lbs): 150
Blood: A Rh+
CMV: +
Ethnicity: Caucasian, Dutch, English, French, German, Irish, Norwegian, Scottish, Swiss
Jewish Ancestry: No
Education/Occupation: BS in progress / Student
Live Birth / Pregnancy Confirmed: Yes
Extended Testing: Yes
Genetically tested for: View
Porter's bright blue/green eyes light up any room he walks into. Paired well with his sandy blond hair and engaging smile, Porter has a very attractive look. He sports lean, muscular arms and legs, which he keeps fit by running and riding his bike frequently.
Porter's personality is that of a sweet, caring, intelligent young man. He is friendly, outgoing, and positive. His love of travel, education, and family make him a joy to have conversations with. He usually comes into our office with stories of his recent adventures and it's clear that he has an extreme amount of enthusiasm for exploring and new experiences. Porter makes for an excellent donor and could be the perfect choice for you!