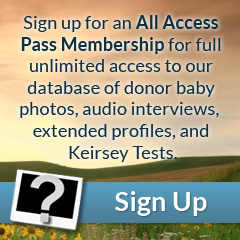 Eyes: Blue
Hair: Blonde
Height: 5'09"
Weight (lbs): 140
Blood: O Rh+
CMV: -
Ethnicity: English, Norwegian
Jewish Ancestry: No
Education/Occupation: B.A. International Studies/Philosophy pursuing M.A South Asia Studies / Student/Freelance Writer
Live Birth / Pregnancy Confirmed: Yes
Extended Testing: No
Genetically tested for: View
Preston is adorable! He is 5'9" with a long, lean frame. His blonde hair meshes perfectly with his deep-blue eyes. Preston has a smooth, clear complexion and fair skin. His eyebrows are thick but neatly separated. His eyes are symmetrical, and the outer corners slope slightly down. His nose is proportional to his face, and his chin is nicely defined without being too big. Overall, Preston is an attractive young man and a dapper dresser.
Preston is undeniably a thinker and a learner. He traveled to India and made a point to learn the local languages. He is career-focused but always leaves time for friends and family. He grew up with a loving support network, and therefore he knows how important family is. When asked why he wants to be a donor he answered, "I feel lucky to have such a loving, supportive family that I am compelled to do something that is easy for me but might have a large impact on someone else and their ability to form a family."