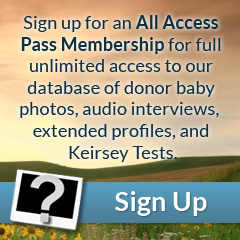 Eyes: Brown
Hair: Black
Height: 5'08"
Weight (lbs): 140
Blood: B Rh+
CMV: -
Ethnicity: Mix, African-American, Lithuanian
Jewish Ancestry: No
Education/Occupation: B.A. Business Administration / Student
Live Birth / Pregnancy Confirmed: Yes
Test Results
Extended Testing: No
Carrier For:

No disease causing mutations detected

Results for Karyotyping / Spinal Muscular Atrophy:
Results with No Disease Causing Mutations: View full list
Donor Description
Quintin is a handsome combination of Lithuanian and African-American. He has thick curly black hair that he wears short, and large brown eyes. Quintin has a great warm smile with gorgeous teeth. He has a masculine chin and sharp jaw line. Quintin is athletic and thin from running about 80 miles a week. He wears trendy clothes and alternates between dark and colorful shirts.
Quintin is very intelligent and is studying computer science and accounting, and is doing a math minor at University. He can be a little shy at first, but Quintin warms up easily. He is friendly and very sweet. He enjoys art and played piano for over a decade. Quintin is a very active person and likes to stay in shape.
We asked Quintin what he was most proud of and he said, "I'm most proud of my relationship with my brother. For the middle part of my childhood I had almost no relationship with my brother because we didn't get along and couldn't see eye to eye on anything. I didn't know what would happen with this, but as I got closer to graduating high school we started building a relationship again and now are best friends. Nothing's taken more work than changing my attitudes, but I knew I wanted to have a strong connection with my brother so I had to get over some of my character traits that were making a relationship hard to build." Quintin has incredibly good values and we think he would make a wonderful donor choice.