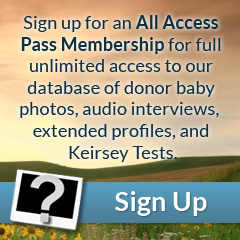 Eyes: Blue
Hair: Blonde
Height: 6'03"
Weight (lbs): 205
Blood: AB Rh+
CMV: -
Ethnicity: Caucasian, Norwegian
Jewish Ancestry: No
Education/Occupation: PhD Pharmacy / Pharmacist
Live Birth / Pregnancy Confirmed: Yes
Extended Testing: No
Genetically tested for: View
If you are looking for a tall and well built, handsome, and intelligent donor then look no further! Rainer has strong features and a masculine jaw line. He has a fantastic smile with reddish pink lips and perfect pearly white teeth. He has friendly blue eyes that invite you into chatting with this charismatic young man. Rainer's blonde hair goes well with his medium skin tone. He dresses in either workout gear or fashionable shirts and jeans.
Rainer is a pharmacist and is quite smart. Rainer's upbeat attitude is sure to put a smile on your face! He is quick witted and has a wonderful sense of humor. Rainer is charming, outgoing, and sweet. We love Rainer's personality and feel that he would be a great genetic donor to start your family!