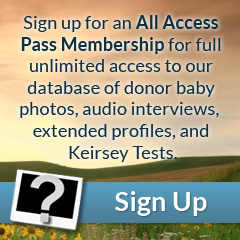 Eyes: Brown
Hair: Brown
Height: 5'06"
Weight (lbs): 150
Blood: A Rh+
CMV: -
Ethnicity: Caucasian, Polish
Jewish Ancestry: No
Education/Occupation: B.A. Accounting / Student/Barista
Live Birth / Pregnancy Confirmed: No
Extended Testing: No
Genetically tested for: View
Ralph is extremely active, participating in a variety of sports and, athletic activities and weight lifting to stay in shape. This results in giving him a lean but muscular build. He has dark brown hair that is complemented by his green/brown eyes. He keeps his face clean shaven and his hair short. Ralph loves to smile, revealing straight white teeth set in a round face with attractively symmetrical features.
Ralph is very adventurous and intelligent. He has high academic goals, including a professorship at a university. He is inclined to finance and mathematics, leading him to attain a degree in accounting. In his time away from school, Ralph enjoys a variety of sports and outdoor activities including scuba diving, traveling and sailing. When asked why he wants to be a donor, Ralph answered, "I want to be a donor so that I may help a family in need start their family." Ralph is a donor is a caring, positive and happy individual.