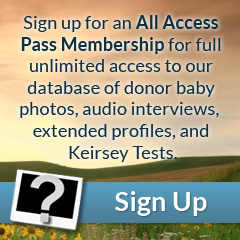 Eyes: Brown
Hair: Black
Height: 6'02"
Weight (lbs): 185
Blood: O Rh+
CMV: +
Ethnicity: Mix, Asian, Canadian, Taiwanese
Jewish Ancestry: No
Education/Occupation: Studied Linguistics / Family Room Specialist
Live Birth / Pregnancy Confirmed: No
Extended Testing: No
Genetically tested for: View
Redford embodies the tall-dark-and handsome ideal. Standing over six feet with broad shoulders and a lean physique, he makes a great physical first impression. His black hair and eyebrows mesh perfectly with his fair skin and red lips. Redford's dark-brown eyes are shaped like half circles, and his nose is centered and straight. He also carries a well-defined chin and jawline.
Being from Canada, Redford loves ice-hockey and has played the sport throughout his entire life. But he also enjoys hiking, reading, and trying new things; for example, taking modern-art classes with no background in art or art history. Redford has travelled all over Asia but still plans to explore even more of the continent. This donor is thoughtful, intelligent, and maintains a zest for life, making Redford a great pick for any family.