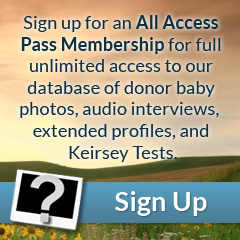 Eyes: Blue
Hair: Blonde
Height: 6'04"
Weight (lbs): 241
Blood: AB Rh-
CMV: -
Ethnicity: Caucasian, German, Irish, Scottish
Jewish Ancestry: No
Education/Occupation: M.D. / Medical Student
Live Birth / Pregnancy Confirmed: No
Donor Description
Donor Reid is available only for a 1-time use in IVF (in-vitro fertilization) (https://www.seattlespermbank.com/limited-release-ivf-only-donors/). This donor produced a small number of vials and due to the limited inventory, each client must be using IVF for a 1-time fertilization of multiple eggs. Please contact our Supervisor, Angelo Allard (angelo@seattlespermbank.com), for more details.
Reid has a large build, broad shoulders, and is ruggedly handsome. He has thick, sandy blonde hair, deep blue eyes, and a charming smile. He is an exceptionally physically fit donor who is naturally athletic. He grew up playing hockey and now stays fit by weightlifting, running, and various outdoor activities. He has a welcoming voice and a great laugh that bears evidence to his humorous and good-natured personality.
Reid has many desirable traits that he shares with the rest of his family. He is intelligent, well-grounded, down to earth, and loyal. He stays in close contact with his family, especially his sister who is also in medical school. Reid has a lot of great attributes and we are excited to have him with us as a donor.