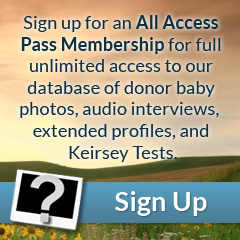 Eyes: Brown/Green
Hair: Blonde
Height: 6'02"
Weight (lbs): 185
Blood: A Rh+
CMV: -
Ethnicity: Caucasian, English, German, Irish
Jewish Ancestry: No
Education/Occupation: B.A. Comparative Literature, German / Student
Live Birth / Pregnancy Confirmed: Yes
Extended Testing: No
Genetically tested for: View
Renwick is very cute and sweet. He is tall and thin with a perfect runner's build. He has light blonde hair and darker eyebrows. Renwick has green/brown eyes that are always lit with a smile. He has a medium skin tone that tans to a golden brown in the summer. Renwick has a smattering of freckles across his face that are very light. Renwick has a lovely white smile with a full bottom lip and light pink in color. Renwick usually wears dark jeans with an undershirt and a flannel button up.
Renwick is a true gentleman. He is kind and caring with a genuine demeanor. Renwick can be a tad shy when meeting new people and prefers having a few close friends over having many acquaintances. He is currently in graduate school for library science and hopes to work in an academic library in the future. We asked Renwick why he wanted to be a donor and he said, "Once I learned about what it is that is being done at [the sperm bank], I realized that I am helping those who cannot have their own children. In my family life, I have had a parent remarry and decide to have children, but that step-parent was unable to have children, and only now do I realize the problems that that may cause for people. Now that I've learned more about the program I am happy to help people who are trying to start families." Renwick is very sincere in his efforts and we think he would make a lovely donor choice!