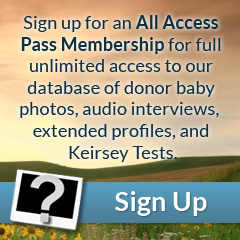 Eyes: Blue/Green
Hair: Brown
Height: 6'01"
Weight (lbs): 188
Blood: O Rh+
CMV: -
Ethnicity: Caucasian, Irish
Jewish Ancestry: No
Education/Occupation: B.S. Sports & Media / Student, Retail
Live Birth / Pregnancy Confirmed: No
Extended Testing: Yes
Genetically tested for: View
Rizzo has thick, brown hair and a naturally bronzed tan skin. It's evident after meeting him that he has had an athletic background with his tall, strong physique. He has soft yet masculine facial features including full bodied lips and mesmerizing blue-green eyes.
Rizzo is currently obtaining a business degree with an emphasis in sports and media. With his outgoing, confident personality and passion for sports, this is a perfect career choice for him to pursue. He's a great communicator and the type of guy that can strike up a conversation with anyone he meets. Rizzo is extremely handsome with a larger than life personality making him an excellent choice for a donor!