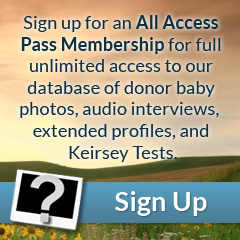 Eyes: Brown
Hair: Brown
Height: 6'01"
Weight (lbs): 180
Blood: A Rh+
CMV: +
Ethnicity: Caucasian, English, German
Jewish Ancestry: No
Education/Occupation: B.S. in Computer Science and Philosophy / Student
Live Birth / Pregnancy Confirmed: Yes
Extended Testing: No
Genetically tested for: View
Rodney has a smile that lights up a room. Thanks to his perpetual positive attitude, Rodney is seemingly always smiling! His skin tone is medium and can handle sun quite well. Rodney maintains a runner's build: long, lean limbs and a sturdy frame. His chestnut-brown hair is just about the same shade as the brown in his eyes.
Rodney is possibly one of the happiest donors we have encountered. His winning attitude propels him through his studies and keeps him motivated. While he loves what he is studying, computer science and programming, he also enjoys playing piano and guitar. Rodney is a go-getter with boundless energy and a young man with a promising future.