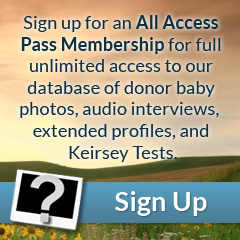 Eyes: Brown/Green
Hair: Light Brown
Height: 6'00"
Weight (lbs): 171
Blood: O Rh+
CMV: -
Ethnicity: Caucasian, French, German, Irish, Native American, Polish, Russian, Scottish
Jewish Ancestry: No
Education/Occupation: MA Music Education / Music Instructor
Live Birth / Pregnancy Confirmed: No
Extended Testing: Yes
Genetically tested for: View
Ross is lean with long muscles and has participated in a variety of sports including earning a black belt in taekwondo. He has green/brown eyes that contrast well with his wavy, light brown hair and fair skin. He is usually sporting a 5 o'clock shadow, giving him a more ruggedly handsome appearance. Ross has a shy but sweet smile that softens his angular facial features.
Ross is very intelligent and passionate. He has a Master's degree in Music Education and loves to both play and teach music. Ross' musical talents know no bounds as he plays a variety of instruments and sings as well. When not performing, Ross is typically reserved around those he does not know. However, once he becomes comfortable Ross is a lot of fun with a great sense of humor. When asked why he wants to be a donor, Ross answered, "Giving is one of my favorite things to do for people and this is one of the easiest ways to give that I think most people forget about. Ross is a donor that is kind, loyal and compassionate.
Genetic Testing
Over the years, we have expanded our genetic testing of donors as genetic knowledge and technology have advanced. As a result, not all donors have been tested for the same conditions or with the same methods. All donors have undergone genetic testing for Cystic Fibrosis, Spinal Muscular Atrophy and Karyotyping.  However, many donors have had more extensive testing performed.
This donor has been evaluated for carrier status of the listed conditions. A negative result reduces, but does not eliminate, the likelihood of the donor being a carrier. If you are a known carrier of a genetic condition please contact us, and we will provide a copy of the donor's test reports to your physician and/or genetic counselor.