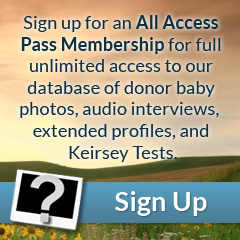 Eyes: Blue
Hair: Light Brown
Height: 6'05"
Weight (lbs): 180
Blood: A Rh+
CMV: -
Ethnicity: Caucasian, German, Irish, Italian
Jewish Ancestry: Yes
Education/Occupation: B.S. Finance / Student
Live Birth / Pregnancy Confirmed: Yes
Extended Testing: Yes
Genetically tested for: View
Sanford is the total package- tall, charming, handsome, and intelligent! Sandford has a strong square jaw line and long, lean frame. He keeps fit by running, scuba diving and backpacking. Sanford has piercing blue eyes and thick, sandy brown hair. He also has a gorgeous smile and a smooth, medium complexion that tans dark in the summer. He has a light-hearted and engaging demeanor that makes him a favorite around our office.
Sanford is also especially intelligent. With a degree in Finance and strong mathematical and mechanical skills, he is a well-rounded and talented young man. Sanford is an outgoing guy with strong ties to his family. He credits them with making him into the man he is today. These traits make Sanford an excellent donor!
Genetic Testing
Over the years, we have expanded our genetic testing of donors as genetic knowledge and technology have advanced. As a result, not all donors have been tested for the same conditions or with the same methods. All donors have undergone genetic testing for Cystic Fibrosis, Spinal Muscular Atrophy and Karyotyping.  However, many donors have had more extensive testing performed.
This donor has been evaluated for carrier status of the listed conditions. A negative result reduces, but does not eliminate, the likelihood of the donor being a carrier. If you are a known carrier of a genetic condition please contact us, and we will provide a copy of the donor's test reports to your physician and/or genetic counselor.