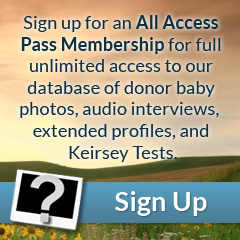 Eyes: Blue
Hair: Strawberry Blonde
Height: 5'11"
Weight (lbs): 170
Blood: O Rh+
CMV: +
Ethnicity: Caucasian, English, German, Irish
Jewish Ancestry: No
Education/Occupation: PhD Chemistry / Research Scientist
Live Birth / Pregnancy Confirmed: Yes
Extended Testing: Yes
Genetically tested for: View
Sebastian's face is bright, sweet, and caring. He has a fair skin tone with subtle rosy undertones, big, bright blue eyes, a wide smile, and cute dimples. He has wavy, strawberry blonde hair and a smattering of freckles on his nose and cheeks. Sebastian has a slender, runner's build with strong legs and a solid torso.
Sebastian has a Masters in Organic Chemistry and is currently a research scientist and adjunct Chemistry professor, as well as currently attaining his Phd. Needless to say, he is very intelligent and academically accomplished. He also has a lot of hobbies and talents, and prides himself on being able to learn new things quickly; he enjoys gardening, soap making, cooking, home brewing, and music. He also is a big sports fan and travel enthusiast. All around, Sebastian is a great guy, and a great donor!