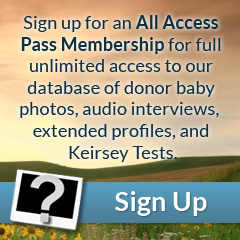 Eyes: Blue/Green
Hair: Dark Brown
Height: 5'08"
Weight (lbs): 160
Blood: O Rh-
CMV: +
Ethnicity: Austrian, Caucasian, Dutch, German, Italian, Native American
Jewish Ancestry: No
Education/Occupation: MFA in Photography / Creative Director, Online Retail
Live Birth / Pregnancy Confirmed: Yes
Extended Testing: Yes
Genetically tested for: View
Seymour has piercing, intense blue/green eyes, a medium skin tone with olive undertones that tans very dark in the summer, and thick, dark brown hair. He has a smaller, angular face, with a square jawline and a reserved, but charming smile. He has a small to medium build, with a very strong upper body and lean torso and legs.
Seymour is a self-professed introvert, but values his relationships with close family and friends. He has a MFA in Photography, and excels both creatively and with programming and math. He is currently a creative director for a major online retailer. He comes from a long time of both scholars and athletes, and personally maintains a very active lifestyle by hiking, biking, and competing in triathlons. Seymour talks about his constant self-criticism and desire to achieve perfection in everything he does is 'a blessing and a curse,' although we find it very impressive how much he has been able to accomplish in his personal and professional life through hard work and dedication.
Genetic Testing (Donor Requires Signed Consent)
Over the years, we have expanded our genetic testing of donors as genetic knowledge and technology have advanced. As a result, not all donors have been tested for the same conditions or with the same methods. All donors have undergone genetic testing for Cystic Fibrosis, Spinal Muscular Atrophy and Karyotyping.  However, many donors have had more extensive testing performed.
This donor has been evaluated for carrier status of the listed conditions. A negative result reduces, but does not eliminate, the likelihood of the donor being a carrier. If you are a known carrier of a genetic condition please contact us, and we will provide a copy of the donor's test reports to your physician and/or genetic counselor.
Since this donor is a carrier for 1 or more conditions, we require that you fill out the Informed Consent document found HERE
This consent for needs to be completed and sent to us, prior to shipment.