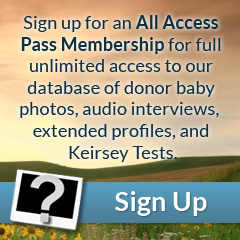 Eyes: Blue/Green
Hair: Dark Brown
Height: 5'08"
Weight (lbs): 160
Blood: O Rh-
CMV: +
Ethnicity: Austrian, Caucasian, Dutch, German, Italian, Native American
Jewish Ancestry: No
Education/Occupation: MFA in Photography / Creative Director, Online Retail
Live Birth / Pregnancy Confirmed: Yes
Extended Testing: Yes
Genetically tested for: View
Seymour has piercing, intense blue/green eyes, a medium skin tone with olive undertones that tans very dark in the summer, and thick, dark brown hair. He has a smaller, angular face, with a square jawline and a reserved, but charming smile. He has a small to medium build, with a very strong upper body and lean torso and legs.
Seymour is a self-professed introvert, but values his relationships with close family and friends. He has a MFA in Photography, and excels both creatively and with programming and math. He is currently a creative director for a major online retailer. He comes from a long time of both scholars and athletes, and personally maintains a very active lifestyle by hiking, biking, and competing in triathlons. Seymour talks about his constant self-criticism and desire to achieve perfection in everything he does is 'a blessing and a curse,' although we find it very impressive how much he has been able to accomplish in his personal and professional life through hard work and dedication.