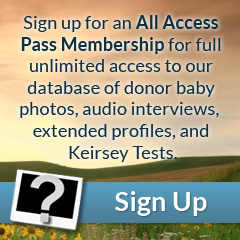 Eyes: Brown
Hair: Black
Height: 6'01"
Weight (lbs): 189
Blood: A Rh+
CMV: +
Ethnicity: Asian, Chinese
Jewish Ancestry: No
Education/Occupation: Doctorate Degree in Pharmacy / Pharmacist Intern
Live Birth / Pregnancy Confirmed: No
Extended Testing: Yes
Genetically tested for: View
Shang is very attractive – he has a square jawline, full lips, and large almond-shaped eyes. He has a smooth, even skin tone, thick black hair, and perfectly symmetrical features. He is very fit, with a slender torso and strong shoulders.
Shang has a degree in Biology and is currently at the end of his Pharmacist internship. He excels at science and math, while also being fortunate to possess higher than average artistic abilities as an artist and painter. He is a very active person and enjoys basketball, swimming, tennis, and ice skating. Shang is a somewhat quiet person, but it's easy to see that he has a caring, calm, and laid-back demeanor. We think Shang is an awesome donor!
Genetic Testing
Over the years, we have expanded our genetic testing of donors as genetic knowledge and technology have advanced. As a result, not all donors have been tested for the same conditions or with the same methods. All donors have undergone genetic testing for Cystic Fibrosis, Spinal Muscular Atrophy and Karyotyping.  However, many donors have had more extensive testing performed.
This donor has been evaluated for carrier status of the listed conditions. A negative result reduces, but does not eliminate, the likelihood of the donor being a carrier. If you are a known carrier of a genetic condition please contact us, and we will provide a copy of the donor's test reports to your physician and/or genetic counselor.