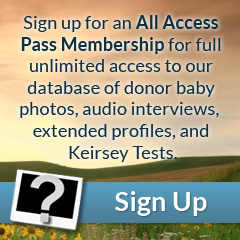 Eyes: Blue/Green
Hair: Brown
Height: 5'10"
Weight (lbs): 145
Blood: O Rh+
CMV: +
Ethnicity: Caucasian, Czech, Irish, Scottish
Jewish Ancestry: No
Education/Occupation: Masters Software Engineering, PhD Public Policy / Graduate Student
Live Birth / Pregnancy Confirmed: No
Extended Testing: Yes
Genetically tested for: View
Sheldon has sharp good looks, and an even sharper wit! He has a fair complexion with dark brown hair, thick dark eyebrows, and piercing blue/green eyes. He has nice, high cheek bones, a handsome jawline, a small nose, and a quirky smile. He has a small to medium build with lean muscles, and stays in great shape without being overly athletic.
Sheldon has a very smart look about him, which is fitting considering he is a highly intelligent person. He was a Software Engineer for many years, before deciding to quite a lucrative job and chase his dream of "saving the world" by pursuing a PhD in Public Policy. His work ethic, passion, and commitment to improving the lives of others are unmatched. He's also incredibly well-rounded, coming from a family of accomplished outdoorsmen (backpacking, rafting, skiing, etc), he is a very active person, and he is very well-traveled. Sheldon is outgoing, thoughtful, and truly unique. He would be an outstanding donor for any family!