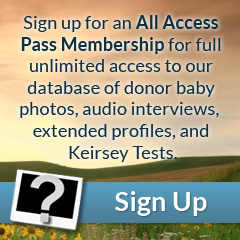 Eyes: Blue/Green
Hair: Brown
Height: 5'10"
Weight (lbs): 145
Blood: O Rh+
CMV: +
Ethnicity: Caucasian, Czech, Irish, Scottish
Jewish Ancestry: No
Education/Occupation: Masters Software Engineering, PhD Public Policy / Graduate Student
Live Birth / Pregnancy Confirmed: No
Extended Testing: Yes
Genetically tested for: View
Sheldon has sharp good looks, and an even sharper wit! He has a fair complexion with dark brown hair, thick dark eyebrows, and piercing blue/green eyes. He has nice, high cheek bones, a handsome jawline, a small nose, and a quirky smile. He has a small to medium build with lean muscles, and stays in great shape without being overly athletic.
Sheldon has a very smart look about him, which is fitting considering he is a highly intelligent person. He was a Software Engineer for many years, before deciding to quite a lucrative job and chase his dream of "saving the world" by pursuing a PhD in Public Policy. His work ethic, passion, and commitment to improving the lives of others are unmatched. He's also incredibly well-rounded, coming from a family of accomplished outdoorsmen (backpacking, rafting, skiing, etc), he is a very active person, and he is very well-traveled. Sheldon is outgoing, thoughtful, and truly unique. He would be an outstanding donor for any family!
Genetic Testing
Over the years, we have expanded our genetic testing of donors as genetic knowledge and technology have advanced. As a result, not all donors have been tested for the same conditions or with the same methods. All donors have undergone genetic testing for Cystic Fibrosis, Spinal Muscular Atrophy and Karyotyping.  However, many donors have had more extensive testing performed.
This donor has been evaluated for carrier status of the listed conditions. A negative result reduces, but does not eliminate, the likelihood of the donor being a carrier. If you are a known carrier of a genetic condition please contact us, and we will provide a copy of the donor's test reports to your physician and/or genetic counselor.