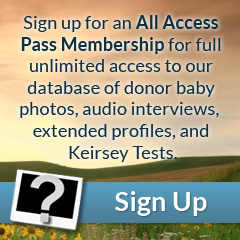 Eyes: Brown
Hair: Brown
Height: 5'08"
Weight (lbs): 160
Blood: O Rh-
CMV: +
Ethnicity: Austrian, Caucasian, Irish, Scottish
Jewish Ancestry: No
Education/Occupation: B.A. Business Administration / Student
Live Birth / Pregnancy Confirmed: Yes
Extended Testing: No
Genetically tested for: View
Shiloh is very cute and youthful. He has boundless energy and is incredibly optimistic. He has light brown hair and eyes. Shiloh has a strong chin that compliments his symmetrical features well. He works out very regularly and he has a well-built physique to show for it! Shiloh has a smile that lights up whatever room he walks into. He is usually dressed in gym shorts and colorful tank tops or t-shirts.
Shiloh is personable and fun. He participates in many different activities like skiing, rock climbing, and learning languages. Shiloh is a dreamer and a deep thinker but it also very logical and has a strong work ethic. He enjoys talking with people and is quite gregarious. We asked Shiloh what he was most proud of and he said, "I am definitely most proud of my ambitions and conviction. I know exactly what I want out my life. I'm not sitting here in college wasting money trying to figure out where I'm going. I know precisely which road I'm headed down, and I'm sprinting."