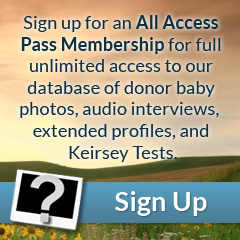 Eyes: Brown/Green
Hair: Light Brown
Height: 6'01"
Weight (lbs): 168
Blood: O Rh+
CMV: +
Ethnicity: Caucasian, Czech, Eastern Eurpoean, Irish, Italian
Jewish Ancestry: No
Education/Occupation: B.A. Business and Finance / Student / Country Club Employee
Live Birth / Pregnancy Confirmed: Yes
Extended Testing: No
Genetically tested for: View
Silas has clear, fair to medium skin, with a medium tan in the summer. He has a dominant forehead and eyebrows, an oval face, sparkling green-brown eyes, a smaller nose, average sized lips, and an awesome smile. He is tall and lean, and is in great shape from playing soccer without looking overly athletic.
Silas is a true extrovert- He loves to talk, is very funny, sociable, and quick-witted. He always asks questions, and shows a genuine interest in getting to know people. We love how fondly Silas talks about his family, especially his parents, and for a young person, he truly seems to value everything his parents have provided him, and the great lessons they instilled at an early age. His family also had a personal experience with Assisted Reproductive Technology in the past, and he speaks with wisdom beyond his years about how happy he is to give back to women and families in need of donations to start the family of their dreams. If you are looking for someone who is fun, intelligent, and good-hearted, Silas would be a great choice for you!