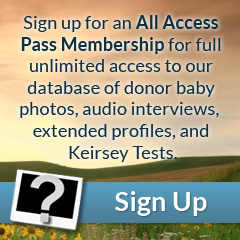 Eyes: Blue/Green
Hair: Brown
Height: 5'07"
Weight (lbs): 155
Blood: A Rh+
CMV: -
Ethnicity: Caucasian, Finnish, German
Jewish Ancestry: No
Education/Occupation: BA Environmental Studies & Anthropology / Geologist, Environmental Technician
Live Birth / Pregnancy Confirmed: No
Extended Testing: Yes
Genetically tested for: View
Slater always walks into our office with a big smile on his face and a warm greeting. He has light brown hair and soft blue/green eyes, with a light dusting of freckles across his medium complexion that tans nicely in the sun. Slater has strong muscular arms and a broad, fit chest. He earns his physique by playing university level lacrosse, as well as staying active outdoors.
Slater is a driven young man. Since graduating from college with a degree in Environmental Studies, he has worked his way up in his chosen field, with an ambition to soon go back to school to get his Masters. He has a close connection to his family and a happy, positive attitude. We are so pleased to have him as a donor in our program, and we think he would make an outstanding choice for your family!