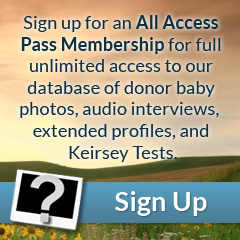 Eyes: Blue/Green
Hair: Brown
Height: 5'07"
Weight (lbs): 155
Blood: A Rh+
CMV: -
Ethnicity: Caucasian, Finnish, German
Jewish Ancestry: No
Education/Occupation: BA Environmental Studies & Anthropology / Geologist, Environmental Technician
Live Birth / Pregnancy Confirmed: No
Extended Testing: Yes
Genetically tested for: View
Slater always walks into our office with a big smile on his face and a warm greeting. He has light brown hair and soft blue/green eyes, with a light dusting of freckles across his medium complexion that tans nicely in the sun. Slater has strong muscular arms and a broad, fit chest. He earns his physique by playing university level lacrosse, as well as staying active outdoors.
Slater is a driven young man. Since graduating from college with a degree in Environmental Studies, he has worked his way up in his chosen field, with an ambition to soon go back to school to get his Masters. He has a close connection to his family and a happy, positive attitude. We are so pleased to have him as a donor in our program, and we think he would make an outstanding choice for your family!
Genetic Testing
Over the years, we have expanded our genetic testing of donors as genetic knowledge and technology have advanced. As a result, not all donors have been tested for the same conditions or with the same methods. All donors have undergone genetic testing for Cystic Fibrosis, Spinal Muscular Atrophy and Karyotyping.  However, many donors have had more extensive testing performed.
This donor has been evaluated for carrier status of the listed conditions. A negative result reduces, but does not eliminate, the likelihood of the donor being a carrier. If you are a known carrier of a genetic condition please contact us, and we will provide a copy of the donor's test reports to your physician and/or genetic counselor.
Since this donor is a carrier for 1 or more conditions, we require that you fill out the Informed Consent document found HERE
This consent form needs to be completed and sent to us, prior to shipment.