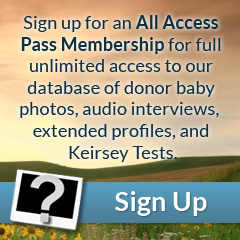 Eyes: Brown
Hair: Dark Brown
Height: 5'11"
Weight (lbs): 163
Blood: O Rh+
CMV: +
Ethnicity: Mix, Colombian, Italian
Jewish Ancestry: No
Education/Occupation: B.S. Chemistry, Med Student / Student, Biochemistry Tutor
Live Birth / Pregnancy Confirmed: No
Extended Testing: Yes
Genetically tested for: View
Socrates is a handsome young man with thick, wavy brown hair and matching brown eyes. He has angular facial features and a wide smile with straight white teeth (which was accomplished without the use of braces). Socrates has a medium skin tone with a few freckles across his cheeks and bridge of his nose. He is usually clean shaven and has a muscular build from regular cardio and weight lifting. Socrates is a very handsome, clean-cut donor.
Aside from his good looks, Socrates is also very intelligent. He is currently in medical school and hopes to work not only as a doctor, but also run a business that teaches healthy lifestyle habits. He is incredibly health conscious and is always willing to offer any advice to those who need it. Although he does not have much time for activities outside of school, Socrates was both musical and athletic in his younger days. He is also extremely well-traveled and we believe that all his life experiences have shaped Socrates into an amazing young man and wonderful donor.