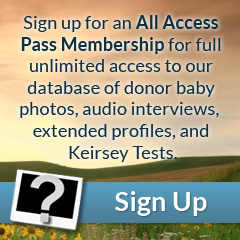 Eyes: Brown
Hair: Brown
Height: 6'00"
Weight (lbs): 160
Blood: O Rh+
CMV: -
Ethnicity: Belgian, Caucasian, English, Scottish, Spanish
Jewish Ancestry: No
Education/Occupation: B.S. Natural Resources Management and Engineering / Airborne Surveyer
Live Birth / Pregnancy Confirmed: Yes
Extended Testing: No
Genetically tested for: View
Stefano is dreamy! He has a light olive complexion and straight brown hair with brown eyes. He is tall and thin with a muscular runner's build. He has light red lips, a gorgeous smile, and twin dimples on his cheeks. Stefano dresses in blue jeans and t-shirts.
Stefano is very intelligent and outgoing. He works in environmental engineering and hopes to either remain in that field or become a professor of engineering. He is friendly and while he can be reserved at first, Stefano opens up very quickly. He is artistic and his favorite medium to work with is clay. He is an active person and loves to play soccer and singular sports like high jump and hurdles. We asked Stefano why he wanted to be a donor and he said, " I wanted to become a donor because I want all people – especially those who are willing to put forth the time, effort and planning to use a donor- to be able to have a child, and after seeing how wonderfully happy and healthy my son is, I know I can help." If you are looking for a curious, optimistic, and athletic donor, Stefano may be perfect for you!