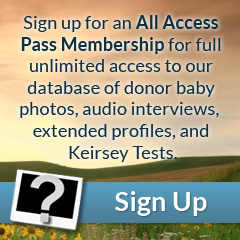 Eyes: Brown
Hair: Dark Brown
Height: 6'01"
Weight (lbs): 170
Blood: AB Rh+
CMV: +
Ethnicity: Mix, Danish, East Indian
Jewish Ancestry: No
Education/Occupation: BS Computer Science / Student
Live Birth / Pregnancy Confirmed: No
Extended Testing: No
Genetically tested for: View
Tall, dark, and handsome comes to mind when you think of Sterling. His black hair and brown eyes as well as his strong eyebrows go well with his beautiful clear olive complexion. Sterling has a very charming smile that he wears often that shows off his white, straight teeth. He has a toned chest and arms that he keeps in shape by playing basketball regularly.
Sterling is the life of the party! Every time he is in our office he has a new story he is happy to share with us. Other than his extremely friendly personality, Sterling is passionate and driven. He knows what he wants his path in life to be and will do what is necessary to achieve those goals. He has a great aptitude for math and computer science which he uses daily as a full-time student.  Sterling has an infectious laugh and unique tone of voice. These qualities make Sterling a great donor who we are happy to have in our program!
Genetic Testing
Over the years, we have expanded our genetic testing of donors as genetic knowledge and technology have advanced. As a result, not all donors have been tested for the same conditions or with the same methods. All donors have undergone genetic testing for Cystic Fibrosis, Spinal Muscular Atrophy and Karyotyping.  However, many donors have had more extensive testing performed.
This donor has been evaluated for carrier status of the listed conditions. A negative result reduces, but does not eliminate, the likelihood of the donor being a carrier. If you are a known carrier of a genetic condition please contact us, and we will provide a copy of the donor's test reports to your physician and/or genetic counselor.
Since this donor is a carrier for 1 or more conditions, we require that you fill out the Informed Consent document found HERE
This consent form needs to be completed and sent to us, prior to shipment.