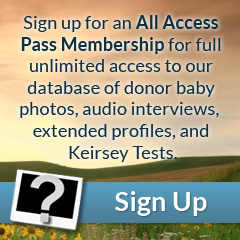 Eyes: Blue
Hair: Blonde
Height: 5'10"
Weight (lbs): 190
Blood: O Rh+
CMV: +
Ethnicity: Caucasian, Czech, French, German
Jewish Ancestry: No
Education/Occupation: B.S. Political Science, M.S. Global Security / Student
Live Birth / Pregnancy Confirmed: No
Test Results
Extended Testing: Routine Genetic Testing (at least 3 conditons)
Carrier For:

No disease causing mutations detected

Results for Karyotyping / Spinal Muscular Atrophy:
Results with No Disease Causing Mutations: View full list
Donor Description
Donor Tad is available only for a 1-time use in IVF (in-vitro fertilization) (https://www.seattlespermbank.com/limited-release-ivf-only-donors/). This donor produced a small number of vials and due to the limited inventory, each client must be using IVF for a 1-time fertilization of multiple eggs. Please contact our Supervisor, Angelo Allard (angelo@seattlespermbank.com), for more details.
The first thing we notice when Tad walks in the room are his big, dark blue eyes. The next thing is his wide smile, showing off straight white teeth. Tad has thick, wavy dark blonde hair and a smooth complexion that he keeps clean shaven. Tad has a well-defined, muscular build that is made more obvious by his typically tan complexion. Tad is a singularly attractive donor.
Tad is very determined and driven to accomplish whatever he puts his mind to. He is very athletic and enjoys contact sports, in particular football and hockey. However, Tad is more than a jock; he is also very interested in politics and is working on his degree in political science. Tad claims to be rather aggressive, but we have never seen anything but a sweet, laid back, joking personality and we enjoy chatting with him.