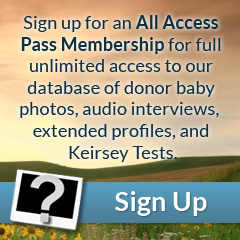 Eyes: Blue
Hair: Light Brown
Height: 5'10"
Weight (lbs): 155
Blood: O Rh+
CMV: +
Ethnicity: Caucasian, French, Irish, Polish
Jewish Ancestry: No
Education/Occupation: Art History Associate's Degree / Carpenter
Live Birth / Pregnancy Confirmed: No
Extended Testing: Yes
Genetically tested for: View
Thatcher is a handsome donor with medium brown hair and dazzling, light blue, eyes. He stays in amazing shape by keeping a healthy vegan diet and staying physically active by weightlifting and adventuring with friends outdoors.
When Thatcher visits our clinic, he greets us with an energetic personality and a charming smile that lights up his entire face. Thatcher is one of our most friendly and outgoing donors with an adventurous spirit, quick wit, a sharp sense of style, and lots of artistic ability. In much of his free time, he plays the guitar and polishes his photography skills. He's the kind of guy anyone could enjoy being around.