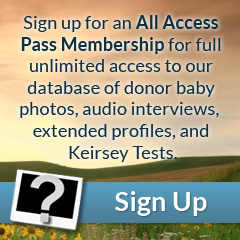 Eyes: Blue
Hair: Red
Height: 6'03"
Weight (lbs): 185
Blood: A Rh-
CMV: -
Ethnicity: Caucasian, English, Irish, Scottish
Jewish Ancestry: No
Education/Occupation: High School / Machinist
Live Birth / Pregnancy Confirmed: No
Extended Testing: No
Genetically tested for: View
Tracey is tall with straight russet hair and pale skin. His eyes are stormy blue and set under reddish blonde eyebrows. His lips are dark pink and Tracey has a great smile. He dresses in plain t-shirts and jeans with a hoodie.
Tracey loves music and plays the guitar and drums. He likes to express himself through his music and is very creative. Tracey can be very quiet and introspective. He is very laid back and easy going. We asked Tracey how his family has shaped his vales and he said, "My family and I have a good relationship and we get along well. Growing up in a Christian family (my dad being a pastor too) was definitely a great foundation for the rest of my life. It helps me keep a positive outlook in all situations." We like Tracey's optimism and work ethic and think he would make a great donor choice.