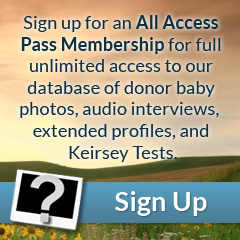 Eyes: Brown/Green
Hair: Brown
Height: 5'10"
Weight (lbs): 145
Blood: O Rh-
CMV: -
Ethnicity: Mix, Asian, Caucasian, German, Irish, Korean, Norwegian, Portuguese
Jewish Ancestry: No
Education/Occupation: MBA Business Administration / Accountant
Live Birth / Pregnancy Confirmed: No
Test Results
Extended Testing: Counsyl Foresight Panel (at least 175 conditions)
Carrier For:
Donor Description
Trinity is attractive with hazel eyes; thick, dark hair; and smooth, tan skin. He has an oval face with tidy, curved brows; a medium-sized, rounded nose with a high bridge; a broad, full-lipped smile; and high cheekbones. He is slender with long limbs and a runner's build. He has a tidy and professional appearance— always well-dressed, clean-shaven, and sporting well-styled hair.

Trinity is an outgoing, cheerful, enthusiastic, open-minded, and trustworthy accountant who hopes to open his own financial services business and find a good work-life balance. When he is not busy with work, Trinity enjoys playing chess, reading for pleasure and learning, practicing martial arts, swimming, and cooking. Trinity is a proud father of two daughters who understands the powerful experience of having children and is excited about having the opportunity to help others have children and build families of their own.