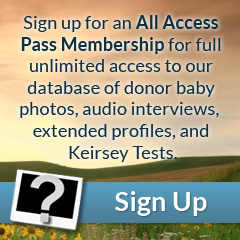 Eyes: Brown/Green
Hair: Dark Brown
Height: 6'00"
Weight (lbs): 170
Blood: O Rh+
CMV: +
Ethnicity: Caucasian, German, Irish, Swedish
Jewish Ancestry: No
Education/Occupation: B.S. Neurobiology / Research Scientist
Live Birth / Pregnancy Confirmed: Yes
Extended Testing: No
Genetically tested for: View
Vernon is a handsome man with a compassionate heart. He has thick dark brown hair, large green/brown eyes, and thick lashes. He has olive skin and bright red full lips. Vernon is tall, fit, and athletic. He dresses comfortably yet fashionably in shirts and jeans or gym clothes.
Vernon has a sweet and outgoing personality. He is charismatic and draws you into a conversation easily. He is intelligent and is currently studying neurobiology at a top university. He enjoys listening to music and is teaching himself the guitar while working on song writing. We asked him what his goal in life is and he said, "My ultimate goal in life is to be a valuable member of society who gives back. I have recently realized that I have been given a lot in my life and now I feel like it is my turn to give it back…" Vernon is a kind individual and we love working with him. This is a proven donor, with several healthy donor children to date, and would be a great choice as an anonymous donor.