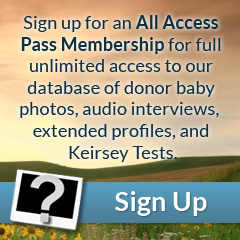 Eyes: Blue
Hair: Light Brown
Height: 5'10"
Weight (lbs): 180
Blood: O Rh+
CMV: -
Ethnicity: Caucasian, Dutch, English, French, German, Irish
Jewish Ancestry: No
Education/Occupation: B.S. Computer Science / Software Engineer
Live Birth / Pregnancy Confirmed: No
Extended Testing: Yes
Genetically tested for: View
Vincent has an oval face, rounded nose, and light blue eyes. True to Northwest style, he wears his thick, light brown hair in a shaggy cut and keeps a short beard.
Vincent is a charismatic, social mover with an outgoing personality and eclectic interests. He keeps a full social calendar hosting karaoke nights and organizing recreational sports leagues. He puts his degree in Computer Science to use in the career he loves working as a software engineer. We enjoy his enthusiasm and his upbeat, high energy, yet laid back personality.