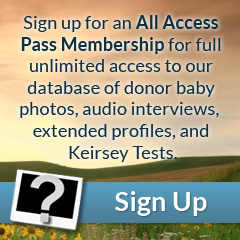 Eyes: Blue/Green
Hair: Strawberry Blonde
Height: 6'03"
Weight (lbs): 250
Blood: A Rh+
CMV: -
Ethnicity: Canadian, German, Polish, Scottish
Jewish Ancestry: No
Education/Occupation: B.S. Kinesiology / Student / Sales
Live Birth / Pregnancy Confirmed: Yes
Extended Testing: No
Genetically tested for: View
Wade is hard to miss- He is tall, incredibly muscular, and very well built. He lives a very active lifestyle by regularly running, hiking and weight lifting. Wade always comes in with a big smile and a twinkle in his eyes. He has kind, sparkling light blue eyes and thick, strawberry blonde hair. He has a rugged jawline, fair skin, and a flawless complexion.
Wade's active lifestyle is well suited to his future career goal in Kinesiology, in which he plans to use his technical skills to help others. He is very sweet and caring, but he definitely has a competitive side and is very athletic. He is also musically and mechanically skilled and excels in school. When asked why he wants to be a donor, Wade answered, "I thought it would be awesome to help somebody achieve their dreams of starting a family." If you are looking for someone who is strong, genuine, and caring, Wade would be a great choice for you!