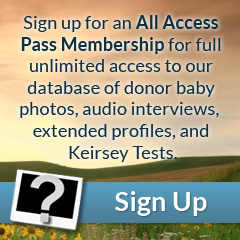 Eyes: Brown
Hair: Brown
Height: 5'08"
Weight (lbs): 148
Blood: O Rh+
CMV: -
Ethnicity: Mix, Colombian, Israeli, Spanish
Jewish Ancestry: Yes
Education/Occupation: Ph.D. Molecular Engineering / Student, Researcher
Live Birth / Pregnancy Confirmed: No
Donor Description
Winston has a handsome and youthful appearance with a charming smile. He has a rectangular face with dark hair and eyes. He has a lean build from an active lifestyle that includes playing his favorite sport, soccer.
Winston is a bilingual donor who is completing his Ph.D. in Molecular Engineering with the goal of working in pharmaceutical research and development. He has a calm personality and keen math and analytical skills. Once well established in his career, Winston would like to spend his free time traveling.
Winston has a tight-knit and supportive family who have encouraged him to pursue his goals and be a kind and generous person. His primary reason for joining the program is so that people can grow loving families of their own.