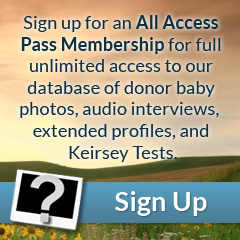 Eyes: Blue
Hair: Dark Brown
Height: 5'11"
Weight (lbs): 175
Blood: O Rh+
CMV: -
Ethnicity: German, Mexican, Swedish, Welsh
Jewish Ancestry: Yes
Education/Occupation: BA Humanities / Student, Athletic Coach
Live Birth / Pregnancy Confirmed: No
Extended Testing: Yes
Genetically tested for: View
Wyatt's face is caring and bright; he almost always walks in with a smile on his face, and something fun and interesting to say. Wyatt has a medium build with large arms and shoulders from weightlifting. He has an oval face, a wide smile, bright blue eyes, a smooth complexion, and thick dark brown hair.
Wyatt is a truly a 'people person'; he lives to engage with people, and is kind and compassionate not only with his friends and family members, but also has an interest in helping the misfortunate and giving back to the general 'global community.'  Wyatt seems to bring boundless energy and enthusiasm to everything he does. He is also quite an accomplished athlete, an avid reader, and a big practitioner of introspection and bettering himself. We think Wyatt is an amazing person, and would be a great donor for any family!
Genetic Testing
Over the years, we have expanded our genetic testing of donors as genetic knowledge and technology have advanced. As a result, not all donors have been tested for the same conditions or with the same methods. All donors have undergone genetic testing for Cystic Fibrosis, Spinal Muscular Atrophy and Karyotyping.  However, many donors have had more extensive testing performed.
This donor has been evaluated for carrier status of the listed conditions. A negative result reduces, but does not eliminate, the likelihood of the donor being a carrier. If you are a known carrier of a genetic condition please contact us, and we will provide a copy of the donor's test reports to your physician and/or genetic counselor.
Since this donor is a carrier for 1 or more conditions, we require that you fill out the Informed Consent document found HERE
This consent form needs to be completed and sent to us, prior to shipment.
HADHA-related disorders
         

 CARRIER