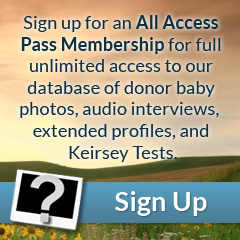 Eyes: Brown/Green
Hair: Brown
Height: 6'03"
Weight (lbs): 205
Blood: O Rh+
CMV: -
Ethnicity: Caucasian, Irish, Polish, Russian
Jewish Ancestry: Yes
Education/Occupation: B.S. in Economics & Business Administration; Pursuing MBA / Engineering Liasion
Live Birth / Pregnancy Confirmed: No
Donor Description
Xyler is a friendly, peaceful person to be around. He has a moderately tan skin tone, handsome, well proportioned facial features, and kind, hazel-like eyes. Xyler has longer limbs and a medium build and his interest in mechanical work such as his previous career as a nuclear mechanic in the Navy, reflects his strong physique.
Xyler is very active in sports, basketball being a favorite of his. Xyler has an adventurous personality, and he enjoys hiking, snowboarding, and surfing. Though active, he is also an animal lover, and enjoys reading and cooking, in his free time.
Xyer is currently working on a master's degree in Business Administration, has a goal of one day starting his own business, and volunteering to help others around the world. He is excited about being a donor in our program and bringing joy to other families.