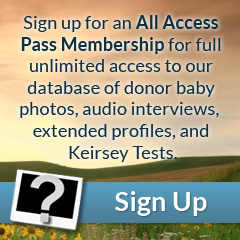 Eyes: Green
Hair: Light Brown
Height: 5'07"
Weight (lbs): 162
Blood: A Rh+
CMV: -
Ethnicity: Caucasian, Finnish, French-Canadian, German, Irish, Native American, Swiss
Jewish Ancestry: No
Education/Occupation: B.A. Business Administration / Student
Live Birth / Pregnancy Confirmed: Yes
Extended Testing: Yes
Genetically tested for: View
Zane has a very muscular build, a result of a regular cardiovascular and heavy weightlifting exercise regime. He has dark green eyes that stand out against his olive skin tone and wavy brown hair. Zane is clean-cut, with short cut hair and a smooth complexion that is always clean shaven. He has a pink lips that form a wide smile with straight white teeth. Zane has strong features set in a slightly round face giving him a sweet and attractive quality.
Zane embodies the Midwest persona. He is sweet, polite, outgoing and always ready to lend a helping hand. Zane is very genuine and outgoing and makes friends wherever he goes. He is also athletic and musical, playing a variety of instruments. When asked why he wants to be a donor, Zane answered, "A child is the passing on of the legacy of life and contributing to that is the least I can do." We cannot brag about Zane enough, he is a truly wonderful person and we love having him in the program.
Genetic Testing
Over the years, we have expanded our genetic testing of donors as genetic knowledge and technology have advanced. As a result, not all donors have been tested for the same conditions or with the same methods. All donors have undergone genetic testing for Cystic Fibrosis, Spinal Muscular Atrophy and Karyotyping.  However, many donors have had more extensive testing performed.
This donor has been evaluated for carrier status of the listed conditions. A negative result reduces, but does not eliminate, the likelihood of the donor being a carrier. If you are a known carrier of a genetic condition please contact us, and we will provide a copy of the donor's test reports to your physician and/or genetic counselor.