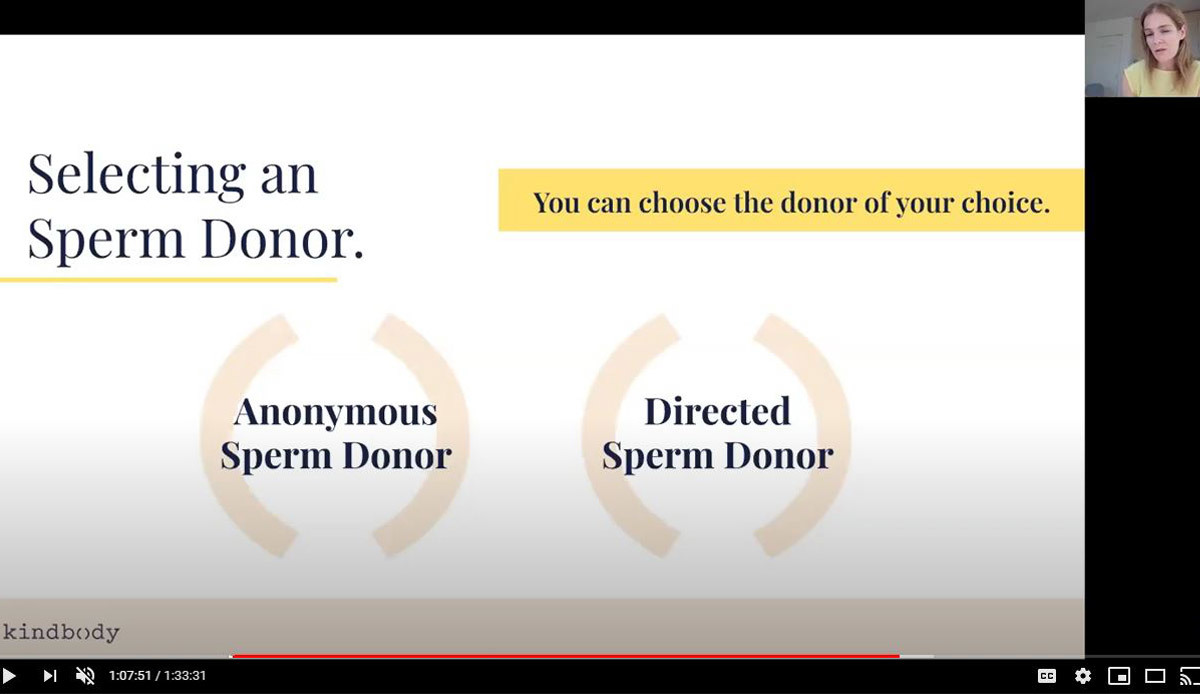 In honor of National Infertility Awareness Week, KindBody hosted a fantastic virtual event, Family Building for the LGBTQ Community, that featured Seattle Sperm Bank. KindBody is a modern fertility, gynecology, and wellness clinic with offices in New York and California.
Family Building for the LGBTQ Community can mean different things for different people. The KindBody event was complete by including family-building opportunities for both queer men and women and featured Roots Surrogacy who recently opened a new birth center in California.
Using a Sperm Bank to Conceive
Whitney Mixter, an LA-based patient of KindBody, shared openly about her journey to parenthood. Although her plan did not originally start with sperm banks and after a failed attempt at her first cryobank, a match was made when she met Seattle Sperm Bank.
During the discussion, Whitney elaborated on why choosing an Open ID donor was important to her and detailed her experience with researching and selecting an ideal donor. Whitney also talks about why the SSB Sibling Registry was a factor in her cryobank selection and expanded on the value of giving her child the opportunity to connect with other half-siblings.
"For me, it was important or imperative really to have an open donor at the bank" said Whitney. 
Seattle Sperm Bank specializes as an Open-ID bank which ensures donor-conceived children have the opportunity to contact their donor at the age of 18.
"Also [it] opens them up to a sibling pool of sorts where they can reach out to other offspring that were conceived," said Whitney. "That was really important to me and the concept of family structure is, as we all know as members of the LGBTQ community, it's constantly shifting and moving and it is what we create it…"
Whitney continues on to say,
"so I thought that was a really cool component of things and that really fulfilled that aspect that I was really craving which was if they have questions [or} if they want to feel included in something bigger than themselves."
"As a single mom……I think for me it was an added benefit to potentially open up their world to extended family."
SSB Connects is a Seattle Sperm Bank Sibling Registry which is set up to help facilitate mutually desired contact between families who share a common donor.
Seattle Sperm Bank congratulates Whitney and can't wait to watch her rock parenthood!
Don't worry if you missed the event, you can view the extended version of Whitney Mixer's journey along with the full interview on KindBody's YouTube page.
For more information on how Seattle Sperm Bank can support your family-building dreams, contact our Client Services Team via email at cs@seattlespermbank.com or 206.588.1484.