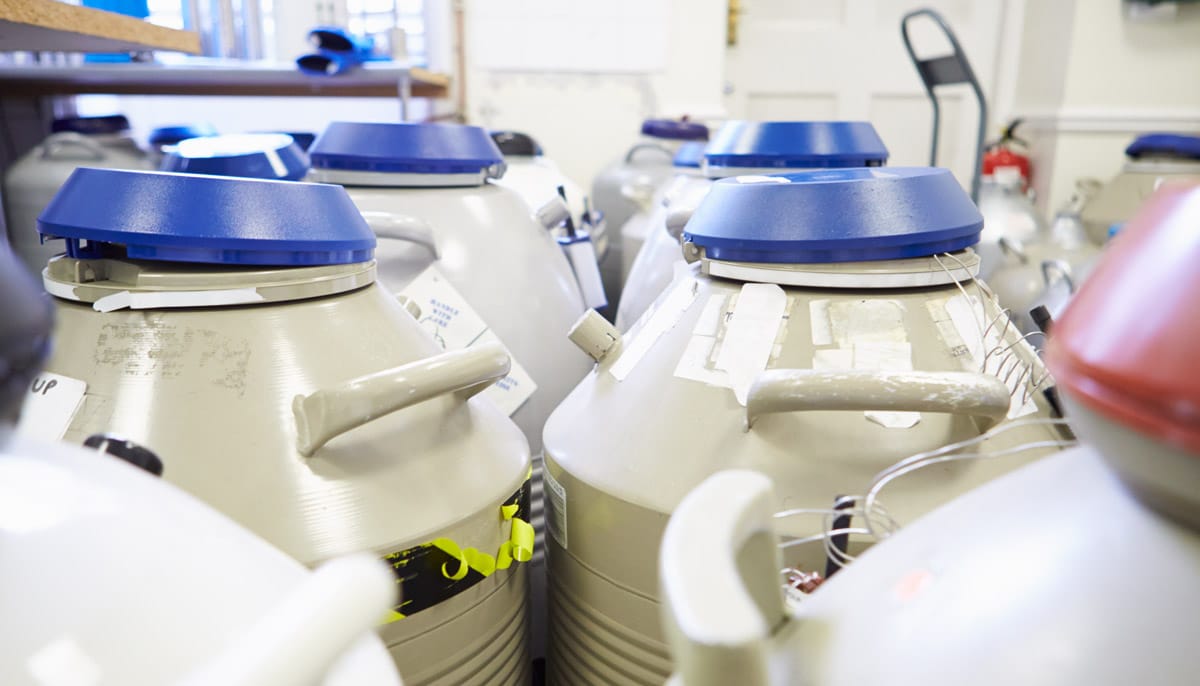 Seattle Sperm Bank offers different vial types for different treatment uses. This includes IUI, ICI, IUI ART, ICI ART, and ICSI vials.
The most used vial type is the IUI or washed vial, which can be used for all treatment types. Here we get into more detail about the most overlooked vials, IUI ART and ICI ART vials.
What makes ART vials different?
ART vials come either IUI (washed) or ICI (unwashed). Both IUI and ICI ART vials come with lower numbers of total sperm cells, between 4 to 9 million total for IUI ART and between 5-14 million for ICI.
ICI ART vials have a higher count because some sperm cells can be lost during the wash process if your treatment plan includes a wash step.
| | | |
| --- | --- | --- |
| Vial Type | Volume | Sperm Count |
| IUI (washed) | 0.5ml | At least 10 million |
| ICI (unwashed) | 1ml | At least 15 million |
| IUI ART (washed) | 0.5ml | 4-8 million |
| ICI ART (unwashed) | 0.5ml | 5-14 million |
What is the difference between washed and unwashed vials?
Whole semen contains sperm cells along with other cells and fluid. A washed vial is a sample that has had everything removed except for the sperm cells. An unwashed vial contains all the cells and fluid present in semen.
When unwashed samples are used for intracervical insemination, the sample is placed into the vaginal canal and sperm cells swim through the cervix, leaving all other cells and fluid behind. When being used for intrauterine insemination, the sample will need to be washed since it will be placed directly into the uterus. Our lab team washes IUI and IUI ART vials before the freezing process, so they are ready for any treatment. ICI and ICI ART vials may need to be washed by your healthcare team before treatment use.
What treatment plans work well for ART vials?
Both IUI ART and ICI ART vials work well for advanced lab procedures like ICSI and conventional insemination when using a single vial.
Using more than 1 vial will increase the number of sperm cells available, expanding the number of treatment options for the ART vials. This maybe a great option for when your chosen donor only has ART vials available.
We recommend that you speak with your healthcare team before purchasing ART vials for your treatment to ensure they are optimal for your treatment plans.
What should you ask your healthcare team before purchasing ART vials?
If you are considering using ART vials for your insemination plans, either because you are planning an advanced lab procedure or because your chosen donor only has ART vials available; here are some things you can discuss with your healthcare provider about proceeding with ART vials.
Does my current treatment plan allow for the use of lower sperm numbers?
Would I be able to maintain my current treatment plan using 2 vials- totaling 1 ml volume with 8 to 18 million sperm cells (10-28 million for ICI ART vials)?
If there are no other available vial options for my chosen donor, do you think we should alter the treatment plan using ART vials?
How many ART vials should I consider purchasing for each pregnancy I am planning?
It can take multiple attempts to have a successful pregnancy, regardless of which vials you are using and which method of insemination. I can be a good idea to discuss your insemination plan and attempts with your healthcare team to make sure you are fully informed about your healthcare journey.
Our team is available to help answer questions about vial types available, waiting lists for donors and assist in finding a donor that meets your needs. Do not hesitate to reach out to us at (206)588-1484 or email cs@seattlespermbank.com.