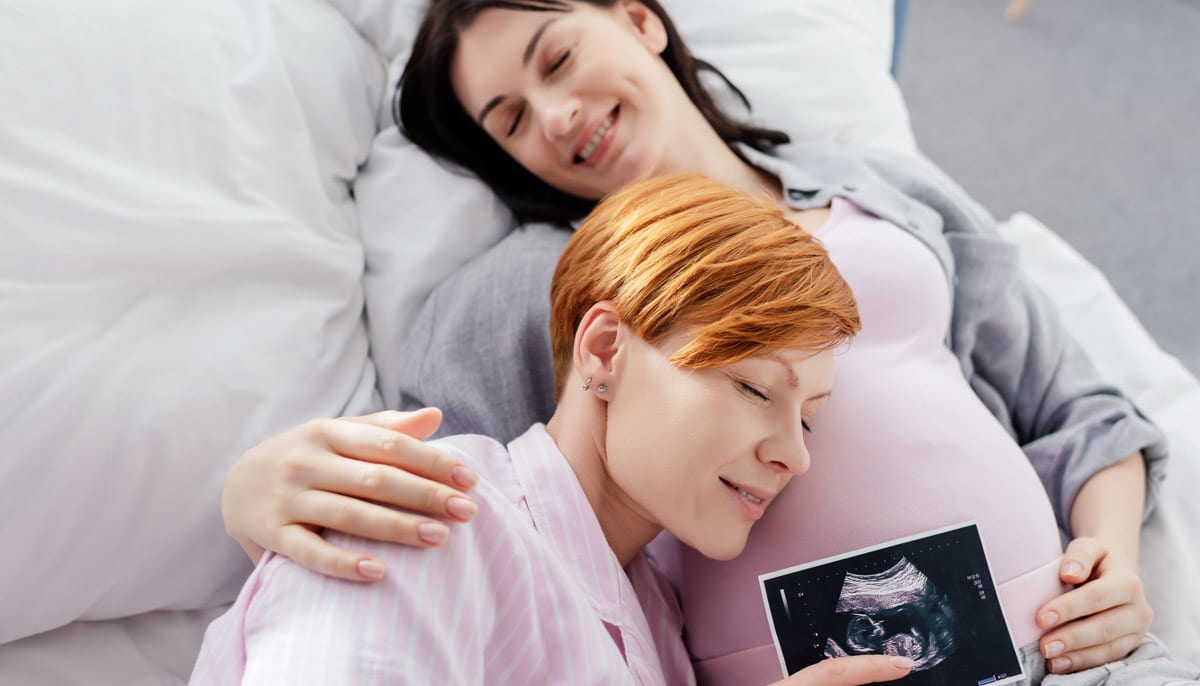 Home insemination is a great option for some individuals or couples using donor sperm. The person planning to carry the pregnancy should not be experiencing any fertility issues that would hinder insemination. Although some people have been successful with home insemination on their first attempt, you should plan an average of 3 vials per pregnancy. All vial purchases come with free storage; with 2 vials you will receive 6 months of free storage at SSB. You can use our Buy Back Program to return unused vials, as long as they have not shipped out from SSB.
One of the benefits of choosing home insemination is it can allow the non-carrying partner to be more connected to the insemination process. Additionally, home insemination is something that can be done privately at home, in a familiar and comfortable place.
How Insemination Works at Home
Along with your sperm sample, we'll send you a home insemination kit including vial thaw instructions and a needless syringe. After you thaw your vial of sperm, you will use a needless syringe (this is similar to a syringe used to administer medicine for babies and small kids) to draw up the sperm sample from the vial. Then the syringe is placed into the vaginal canal of the person intending to carry the pregnancy and the contents are ejected. Sperm swim into the uterus through the cervix and on their way to a waiting egg.
Tracking ovulation is crucial to understanding the best time to inseminate. We offer 14-day tanks that will keep the vial of sperm frozen until it is ready for treatment, giving flexibility for when ovulation occurs.
Which Vial Should Be Used for a Home Insemination?
We offer multiple vial types for different treatment plans. IUI and ICI vials are best suited for home insemination. Both vials will have larger sperm counts over ART and ICSI vial types. IUI vials are washed before they are frozen, while ICI vials are not washed before being frozen. The wash removes seminal fluid and other cells present. In either case, regardless of the fluid present, the sperm swim past the cervix leaving other cells and fluid behind.
Scheduling Your Shipment for Home Insemination
Timing can be critical when it comes to insemination. If possible, it would be best to track ovulation for a few cycles to get an idea about what day in your cycle you are ovulating. Plan to have your tank arrive at least 3 days before your expected day of insemination. This will give you a bit of time if you ovulate early. The SSB Two Week Tank will keep your vials frozen for 14 days, so you get plenty of time if ovulation is late, or if you unexpectedly need to ship your vial back for storage.
Required Paperwork Before Shipping to a Non-Clinic Address
When shipping out a tank for a non-clinic address, such as your home, you will need to complete a non-clinic release form. This can be signed by any licensed healthcare professional, including a midwife, nurse practitioner, OB/GYN, or primary care doctor. Be sure to get all of the required forms completed before your planned shipping date to avoid any delays.
Here are a few additional resources for anyone choosing home insemination:
"Seattle Midwife Answers Our Questions About At-Home Insemination"
"Single Mom by Choice Shares Story of Giving Birth on the Brink of Covid-19 Pandemic"
"Seattle Sperm Bank Discusses At-Home Insemination Experience with WA Couple"
We are available to answer any questions and help support your chosen pathway to parenthood. Don't hesitate to reach out if you need any assistance in choosing your donor, vials, shipping logistics, or anything else. Our Client Services team is available at (206)588-1484 or cs@seattlespermbank.com.