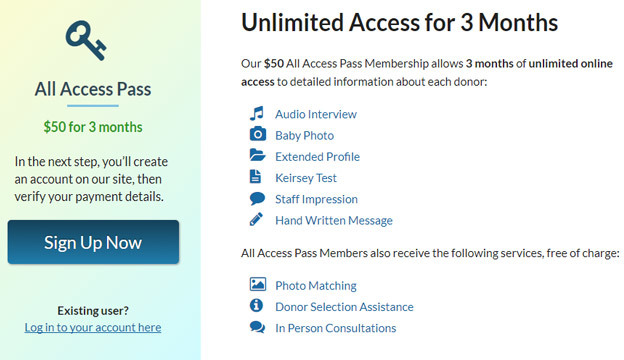 Once you decide to use donor sperm to conceive, the next step is choosing the right donor. This is a critical yet often overwhelming process for many women and families. After all, Seattle Sperm Bank has hundreds of quality donors to select from. Fortunately, our system is comprehensive, easy to use, and cost effective. But where to begin?
The best way to start is to sign up for SSB's All Access Pass membership. For just $50, you get three months of unlimited access to all donor profile materials, which saves you time and money. All Access Pass membership includes audio interviews, Kiersey personality tests, extended donor profiles, handwritten messages, childhood photos, and our photo matching service. Photo matching lets you submit photos of the person you'd most like your donor to resemble, and then our staff compares them to photos in our donor database to find the closest match. To learn more, you can read an article in SELF magazine about a family that used SSB's photo matching to select their donor.
What's more, you also get personalized donor selection help from our team of client representatives. Along with answering questions and guiding you through the process, our staff can help you narrow your search by offering their personal impressions of our donors. They can do this because staff meets regularly with donors and gets to know them well, so once we understand what is important to you, we can make personalized recommendations.
Those in the greater Seattle area are welcome to make an appointment for an in-person consultation. We're committed to helping you find the donor who best matches your needs, and our personal touch sets us apart from other sperm banks.
How to Choose the Right Sperm Donor
Now that you understand the value of our All Access Pass, the next step is to start your search using our helpful online donor tool. But before you dive in, we recommend first considering some of the most important characteristics you're looking for. This includes both physical and psychological traits you'd like to see in your child including personality, intelligence, humor, and other intangibles.
You can also consider our Donor of the Month, who is carefully chosen for his range of admirable qualities. Or check out our current list of top 5 sperm donors recommended by our staff.
If you have questions about using the All Access pass, please contact our clinic at (206) 588-1484 or cs@seattlespermbank.com. Best of luck with your search!